List Details Settings
This page can be accessed by going to System > Settings > Details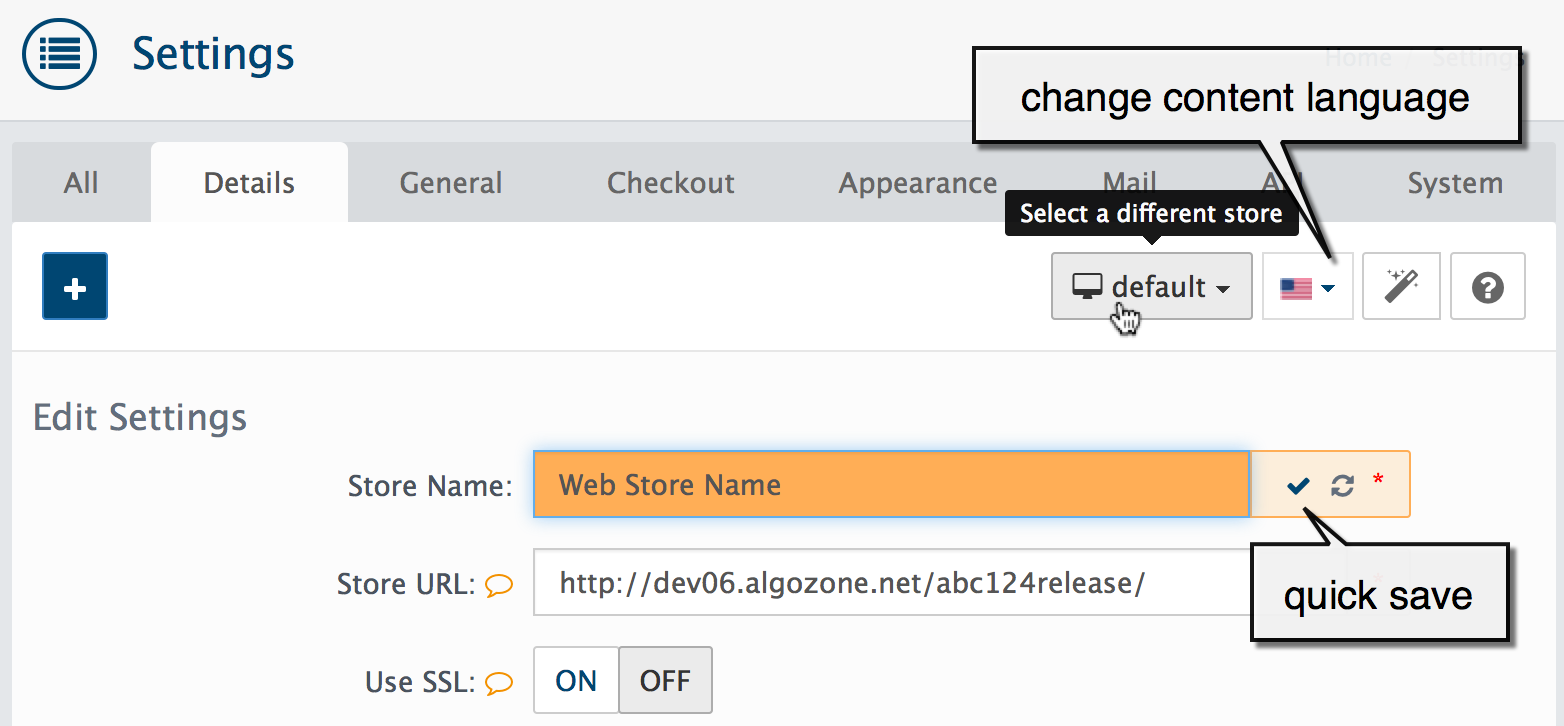 You able to select Store to edit or create new one by clicking on button.
Note
Some setting are common for all stores and can be managed in Default store only.
Store Name: The name of your store or business. This value will be in the "from" field of any email that is sent from the website when sent, such as one that is sent to the customer after purchasing or login name reminder email.
Store URL: Include the full URL to your store. Make sure to add '/' at the end. Example: http://www.yourdomain.com/path/ or http://www.yourdomain.com/ Created automatically after WebriQshops installation, modify it only if you move your store to another folder or domain name.
Use SSL: To use SSL check with your hosting provider if a SSL certificate is installed and configured correctly. Turn setting ON and all your customers will be redirected to secure https url on checkout process and login & registration pages.
Secure Store URL: This will be the URL used during viewing of secure store pages (login, my account, checkout, etc) via HTTPS. Include the full SSL URL(HTTPS) to your store. Make sure to add '/' at the end. Example: https://www.yourdomain.com/path/ You can set separate domain for secure connections (shared ssl domain). To use SSL check with your host if a SSL certificate is installed. Common error is when sub domain is accessed that is different from certificate domain. For example, you may have entered site with https://domain.com, but the certificate is issued for https://www.domain.com.
Title: Meta Title displayed as the title in search engine results, and in the top bar of the browser.

Meta Tag Description: Meta Tag Descriptions are used by search engines to describe the content of your web site in the search engine results page. Optimal Length for Search Engines is about 150 characters.
Meta Keywords: Storefront main page meta tag keywords (comma separated). The meta keywords allows you to provide additional text for crawler-based search engines. Google search engine pays no attention to the Meta Keywords tag at all but Yahoo and Bing use minimal for page ranking. Focus on 4-5 keywords.
Welcome Message: Enter a brief message to the Home page visitors.
Store Owner: The store owner's name.
Address: The address of your store. This will be displayed on the Contact Us page and on invoices.
E-Mail: The store general email address used for receiving. This will be the destination for any emails sent through the website, such as through the feedback from or notification emails sent by the website as notification of new orders. This should be a SINGLE email address only. Additional store mail settings in the Admin->System->Settings->Mail Tab
Telephone: The contact telephone number of your store. This will be displayed on your Contact Us page and invoices.
Fax: The contact fax number of your store. This will be displayed on your Сontact Us page. Not required.
Country: The default country your store is located in. Important in Default Store Tax Rate calculations.
Region/State: The region or state your store is located in. This will be used to decide via geo zones if taxes should be added to your products.
Storefront Language: The default language your store uses. See also System->Localization->Languages.
Administration Language: The default language you see in your store administration. See also System -> Localization -> Languages.
Autotranslate Status: This enabled translation of missing text definitions or language specific data if text values are missing for used language. Read more in this article
Source language for translation: Select source language to be used for auto-translation.
Text Translation Method: Select method you want to use for translation. Default method is a straight copy of source language text. New methods can be added with extensions for example "Google Translate API 2" extension.
Override if source language text was changed: If set ON, text in all languages will be replaced with new translation if source language text is edited. NOTE: Can cause many translations. Use it if you have few languages installed but want to have multi lingual data same for all languages (Product's name & descriptions, Category names etc). Say you edit product's name with source language English, after save the name entered will replace German (or any other installed) product's name with same text.
Warn for missing language text: Get warning message if missing language text is detected. Activate it only if You are looking for missed Language definitions. Can cause a lot of warnings in the WebriQshops Error Log.
Currency: The default currency your store uses. Important setting! If you change default currency make sure to change product prices. See also System->Localization->Currencies.
Auto Update Currency: If set to yes your store will automatically get currency rates and update the values daily (Yahoo server used). Logout and Login again to Admin front to see changes.
Length Class: The default length class your store uses. Length classes are used to assign product's dimensions. Some shipping methods like Royal Mail works only with correct product's dimensions data. See also System->Localization->Length Classes.
Weight Class: The default weight class your store uses. See also System->Localization ->Weight Classes.
After you have made your changes, select the save button
Store Logo
If you are looking how to edit Store Logo please edit your storefront template settings in the Design > Templates section.
Related pages: