Manufacturers list
You can add manufacturer details to your store. Along with being able to browse your store by category; Manufacturer listings also give your customers the advantage of browsing items based on brand names!
Brands are managed from Catalog > Manufacturers.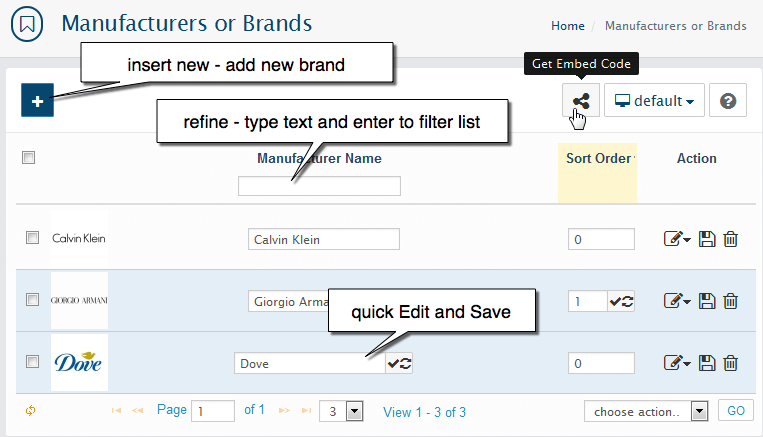 The Manufacturers page contains the "refine" pattern which allows you to refine manufacturers by the following parameter:
- Manufacturer Name;
You can sort manufacturers by Manufacturer Name and Sort Order:
You can quickly edit Manufacturer Name and Sort Order without page reload:
You can change sort order quickly using Drag-and-drop in the grid:
You can get brand's embed code in the grid:
To add a new manufacturer click the + button
Adding Manufacturers to Products
To assign products to their respective Manufacturers.
To do this, use the following steps.
Go to Catalog > Products
Search for and select the product that you'd like to edit.
Click on the product's edit
In the Product's General Tab, click on the Manufacturer drop-down menu
Select the product's manufacturer from the list
Click "Save"
Embed brand
Embed Brands on amy site
We introduce new "embed" feature with version 1.2.3. With WebriQshops 1.2.3 you can sell anything on any website. To get brand's embed code click on the share icon. Read more about how to embed your brands, products and categories on any html page in Embed your store article
Related pages: