List product categories
A category is an organizational unit to which you assign your products. When viewing your store, customers will click on a category to view products that have been assigned to that category. You can also create subcategories within your category. Categories are managed from Catalog > Categories.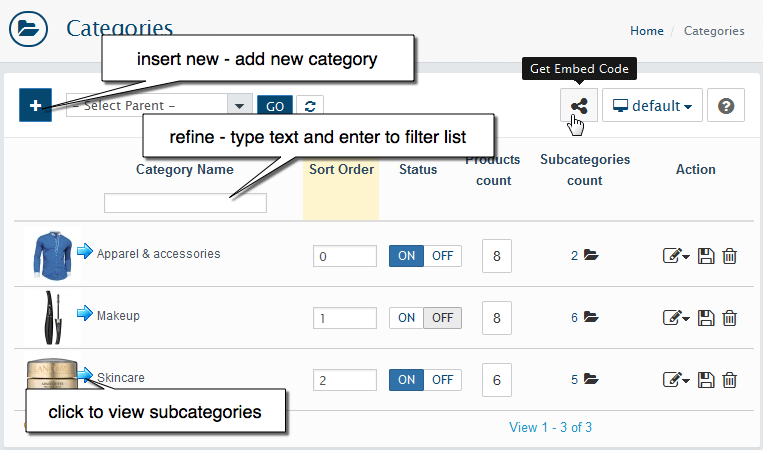 The 'Categories' page contains the 'refine' pattern which allows you to refine categories by the following parameters:

- Category Name;
You can change the language of categories to display using top navigation
You can change the store to display using top navigation
You can view subcategories of any category by click on View button in the Subcategories count column or using Categories drop-down in the top of page or click by on blue arrow near each category image (only if this category has subcategories)
You can sort categories by Category Name, Sort Order, Status, Products count, Subcategories count
You can ON/OFF or change Sort Order quickly in the categories grid.
You can change sort order quickly using Drag-and-drop in the grid
You can get categories list embed code in the grid
After you have created your categories, you must assign products to them. You can assign products to category when you are creating a new product or editing and existing one.
Embed categories
Embed Category
We introduce new "embed" feature with version 1.2.3. With WebriQshops 1.2.3 you can sell anything on any website. To get category embed code click on the share icon. Read more about how to embed your categories, products and brands on any html page in Embed your store article