Content Pages List
Design > Content
The content management system is another feature of the WebriQshops shopping cart software. Using this feature, you can create your own information topics, such as help pages or your company history. The topics will be listed automatically in the 'Information' box of your storefront.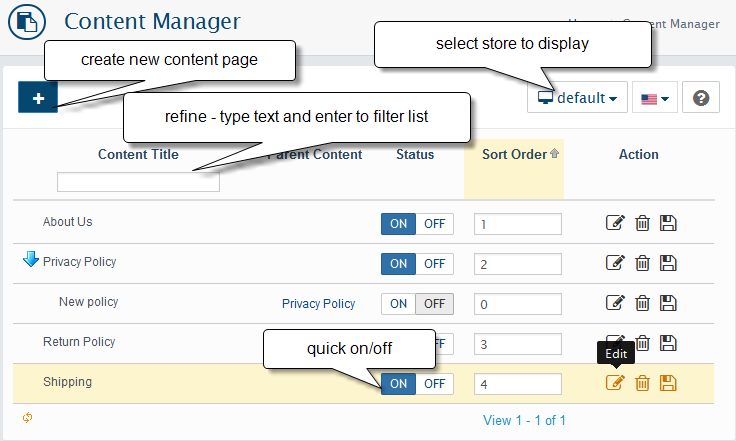 To remove a content page click on the delete button
To change Parent Content click Edit
To edit a content page click on the edit button
To add a new topic use the + button
Status: MUST be "ON" for page to appear in your store. Status allows you to disable the content page from being showed on your site without having to delete it.;
Parent Content Page: Here you can set the content you are currently adding to be a sub-page of another;
Content Title: title of content, displayed in the storefront;
Description: content descriptive text you want to appear on the storefront;
SEO Keyword: The SEO Keyword is important for the proper indexing of your online store by the various search engines. Click Generate button for auto-generate
Content: content text you want to appear on the storefront
Note
This uses the HTML-Editor so you can add HTML, images and change font colors, sizes etc.
Stores: select store where content page will be displayed; Read more about multistore set up in this article
Sort Order: Sort Order set's the order of which the page will be displayed amongst others.
After you have made your changes, select the SAVE
Related pages: