How To
WebriQ CMS Demo
A CMS for static site generators. Give non-technical users a simple way to edit and add content to any site built with a static site generator.
1

Go to our demo url here: demo.webriq.com

2

Click the Login button

3

When ask to Sign in to Github use the account details below

email:

demo@webriq.com


password:

demo!@#1234

NOTE!

If you are having problem upon logging in please contact us for immediate assistance.

4

Once successful you will be redirected to the /dashboard
---
The Dashboard
An illustration below to help you understand the /dashboard properties.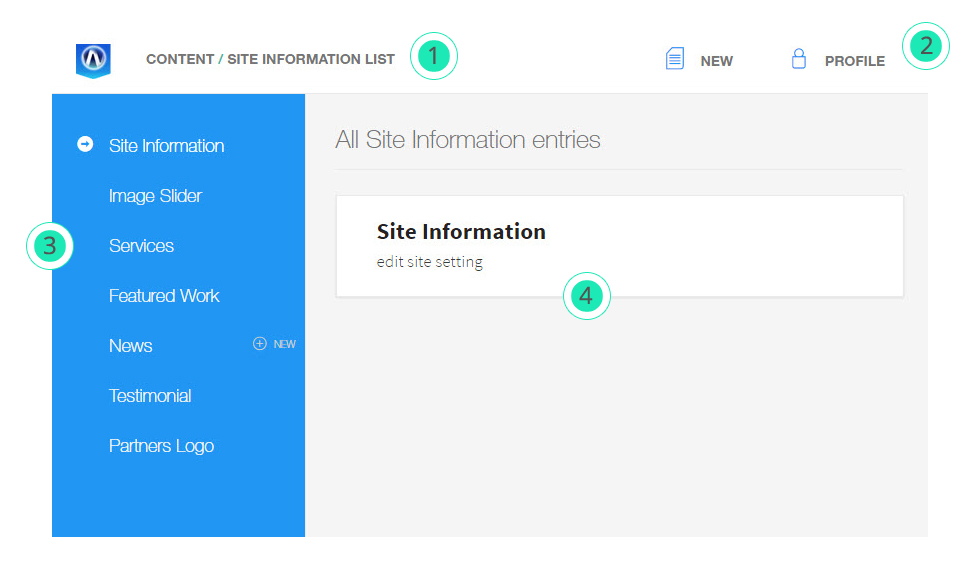 1

Site breadcrumbs

Display the categories & subcategories of items.

3

Profile & New Content menu

For adding new Content Types & Account Profile.

3

Sidebar Menu

A List or Object widgets that are defined in the collections. Read more about defining your collections.

4

Editable Content Area

Display's list of editable contents from a collection.
---
Making Changes
The example below will try to change meta description of the site.
1

From the dashboard, click Site Information in the sidebar menu.

2

Then click Edit Site Information from he Content Area.

3

Scroll down to Website Description.

- Modify the existing contents to your liking.

NOTE!

Whenever you make changes the preview window updates automatically.

4

After Editing, Click the save button to update the site.

NOTE!

Sometimes the changes can take some while to take effect due to compiling delays.
Related pages: